Research Impressions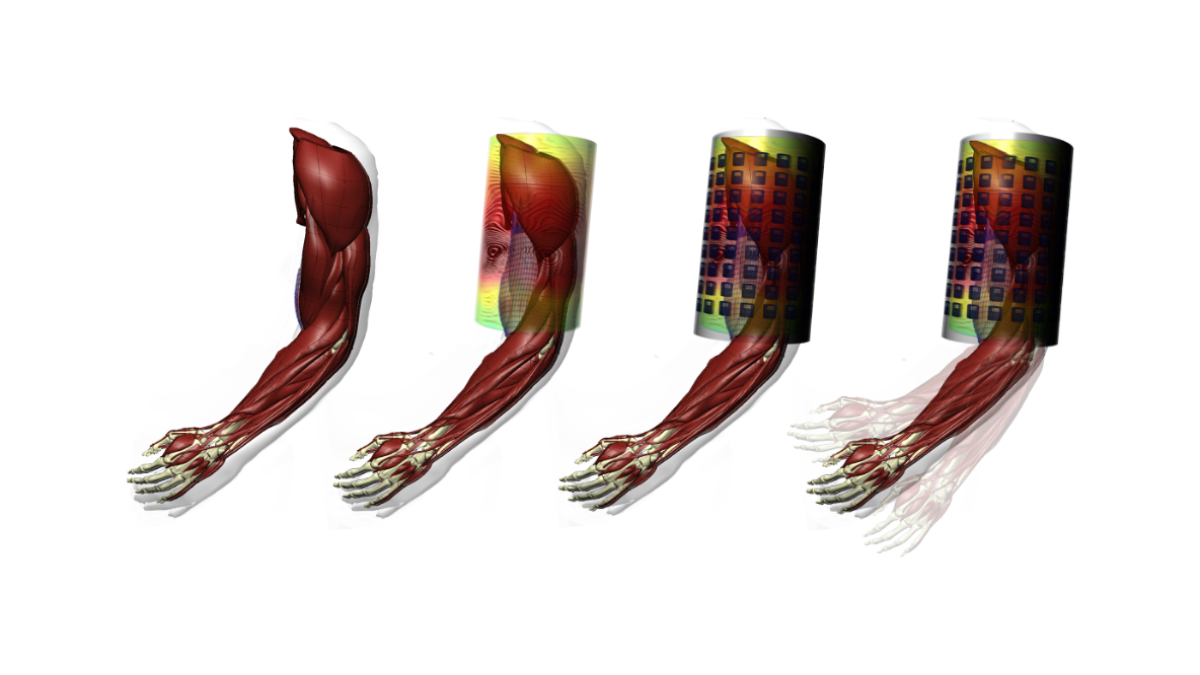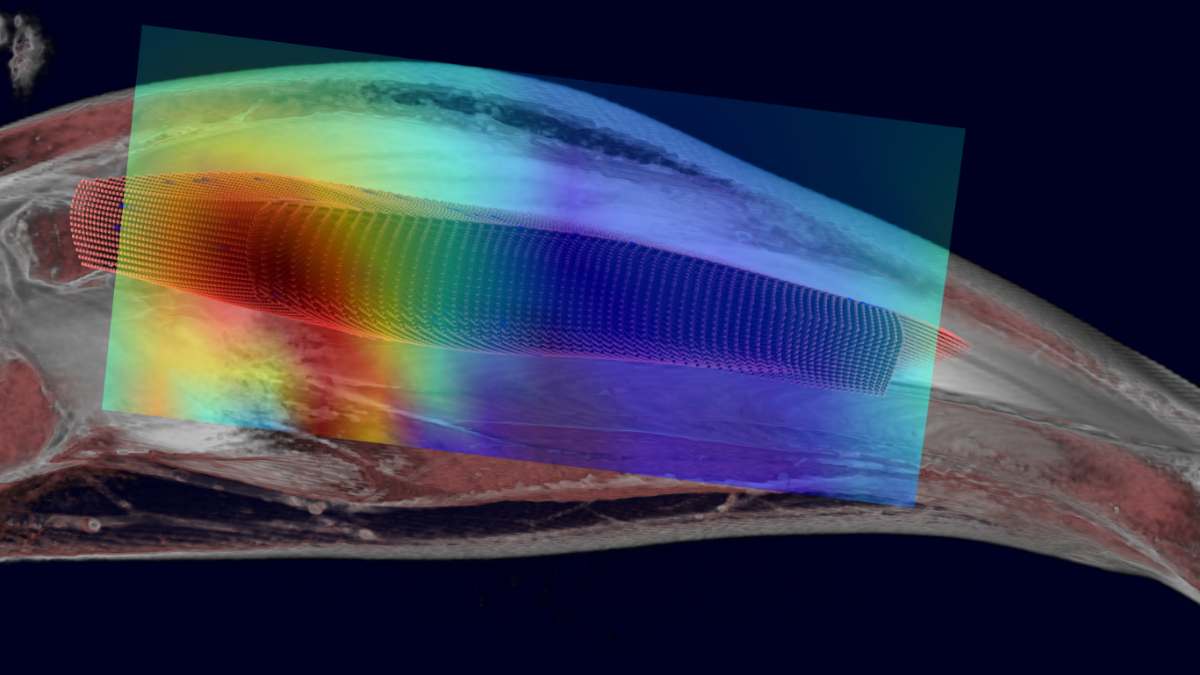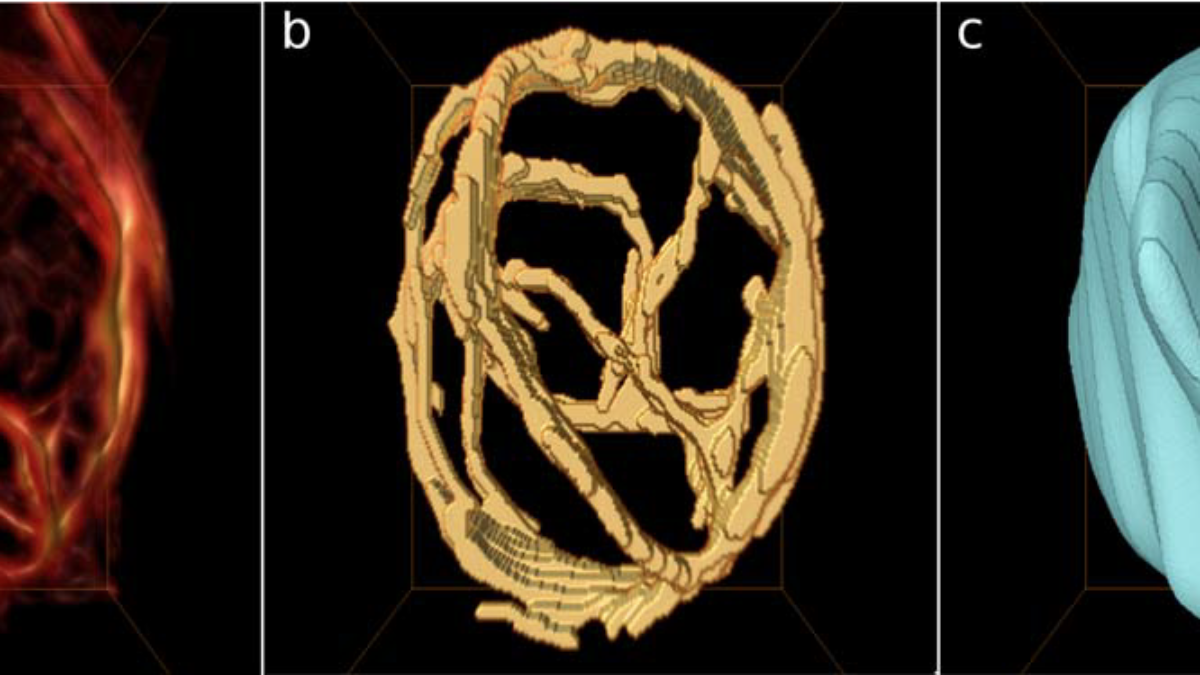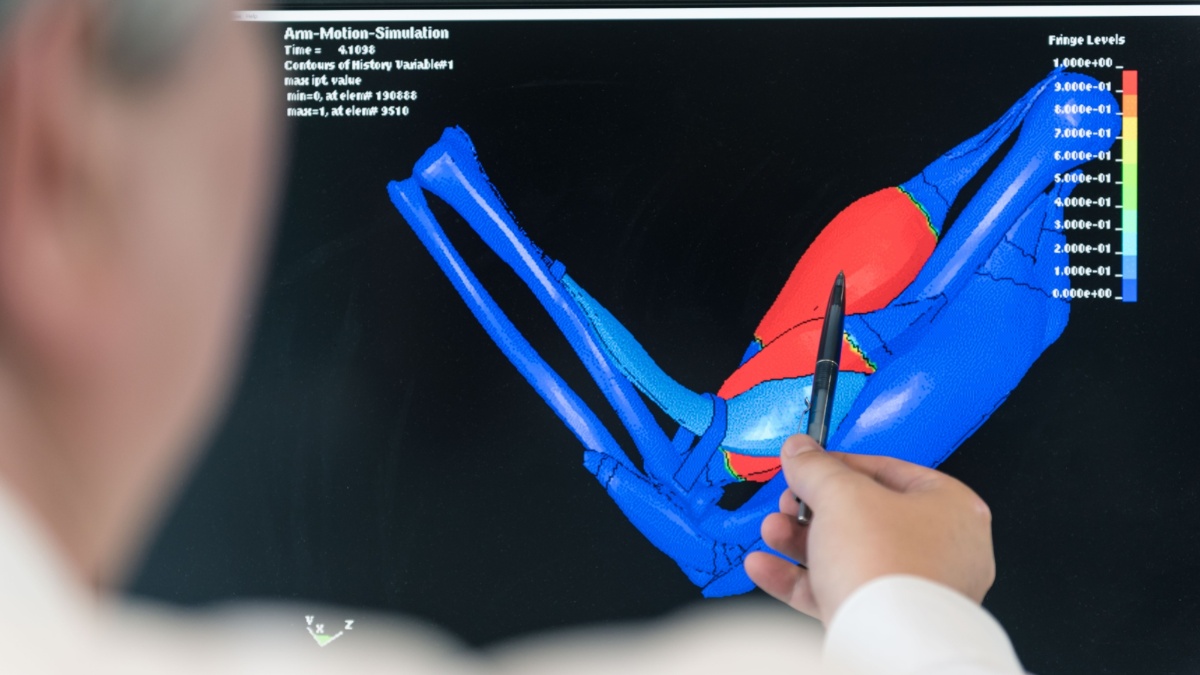 The research focus at the Chair for Continuum Biomechanics and Mechanobiology can be classified into Modelling the Musculoskeletal System, which is predominantly driven by Computational and Experimental Research Questions, and selected Biomechanical Application-driven Research Questions.
qMOTION - Simulation-enhanced Highdensity Magneto-myographic Quantum Sensor Systems for Decoding Neuromuscular Control During Motion (ERC-AdG 2021)
Being able to decode neural signals that control skeletal muscles with high accuracy will enable scientific breakthroughs in diagnostics and treatment, including early detection of neurodegenerative diseases, optimising personalised treatment or gene therapy, and assistive technologies like neuroprostheses. This breakthrough will require technology that is able to record signals from skeletal muscles in sufficient detail to allow the morpho-functional state of the neuromuscular system to be extracted. No existing technology can do this. Measuring the magnetic field induced by the flow of electrical charges in skeletal muscles, known as Magnetomyography (MMG), is expected to be the game-changing technology because magnetic fields are not attenuated by biological tissue. However, the extremely small magnetic fields involved require extremely sensitive magnetometers. The only promising option is novel quantum sensors, such as optically pumped magnetometers (OPMs), because they are small, modular, and can operate outside of specialised rooms. Our vision is to use this technology and our expertise in computational neuromechanics to decode, for the first time, neuromuscular control of skeletal muscles based on in vivo, high-density MMG data. For this purpose, we will design the first high-density MMG prototypes with up to 96 OPMs and develop custom calibration techniques. We will record magnetic fields induced by contracting skeletal muscles at the highest resolution ever measured. Such data, combined with the advanced computational musculoskeletal system models, will allow us to derive robust and reliable source localisation and separation algorithms. This will provide us with unique input for subject-specific neuromuscular models. We will demonstrate the superiority of the data over existing techniques with two applications; signs of ageing and neuromuscular disorders and show that it is possible to transfer these methodologies to clinical applications.
Modelling the Musculoskeletal System
Computationally Driven Research
Modelling the musculoskeletal system using a continuum-mechanical approach based on the theory of finite hyperelasticity, together with fine finite element discretisations is not only a challenging, but also a computationally expensive task. Especially in the many query context, which for example can arise when patient specific data is needed, or if parameter studies for healthy and pathological conditions shall be conducted, the simulations become prohibitively expensive or even unfeasible. For this reason, one needs to find ways to reduce the computational costs and this is where the mathematical field of model order reduction (MOR) suggests itself.
One possibility of reducing the computational effort of simulating a high dimensional system of differential equations, in the context of MOR referred to as full order model (FOM), is the projection based MOR. Essentially, this approach aims at reducing the number of degrees of freedom of the system by projecting it onto a lower dimensional subspace of the original high dimensional solution space. That way, a reduced order model (ROM) of lower dimension is obtained. For the determination of a suitable low dimensional subspace, the proper orthogonal decomposition (POD) is a well established and widely applied method. The idea of the POD is based on a split of necessary computations into an offline and an online phase. Therein, it is assumed, that during the offline phase, time and resources are unlimited, i.e. computations involving high dimensional operations can be executed, while aiming at computing only operations of low dimensional complexity during the online phase.
The challenge of constructing a fast and stable skeletal muscle model lies in considering and preserving the structural properties of the FOM when trying to set up a suitable method to obtain the ROM. Properties we focus on are
dynamics
incompressibility
nonlinearity
which means we obtain a nonlinear differential algebraic equation system (DAE) with three fields to be solved for and a saddle point problem in the linear solve.
A summary of the research activities within this field will be published soon.
A summary of the research activities within this field will be published soon.
Experimentally Driven Research
Selected Biomechanical Applications